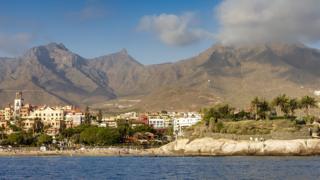 A little German boy's testimony led Spanish police to the bodies of his mother and 10-year-old brother in a cave on the island of Tenerife.
Police arrested the German father, suspected of killing the two victims.
Locals alerted police after finding the distressed five-year-old boy wandering in the mountains near Adeje, muddy and crying, on Tuesday.
Spanish media say the German mother and boys had arrived to see the father on Monday. He is a resident on Tenerife.
The father was arrested at his apartment, reportedly after a struggle.
The victims appear to have been beaten. Officials are treating it as a case of domestic violence.
The Canary Islands are especially popular with German and UK tourists.
El País says the cave was found after a long search in mountain mist – the clue was a wristwatch found by a path.
The paper quotes sources as saying the father was aggressive and refused to give police any information about his partner and sons.
"It is suspected murder," a spokeswoman for the local police (Guardia Civil) told the BBC.
The suspect is being held at a police station in Playa de las Americas, near Adeje, and will probably go before an investigating judge on Friday, she said.
The little boy's maternal grandparents are reported to be flying to Tenerife from Germany to look after him.
A woman called Rosi told Spanish media how she had found the five-year-old boy "tired and all red-faced".
In a video clip on La Vanguardia news website she said the boy "gripped my hand, as he was anxious".
Unable to understand German, Rosi said she fetched a friend, who then translated the boy's story. "He said he had escaped, run away."
from Viral News Updates http://bit.ly/2XMGJob
via IFTTT